All Places 2023 Summer Reading List!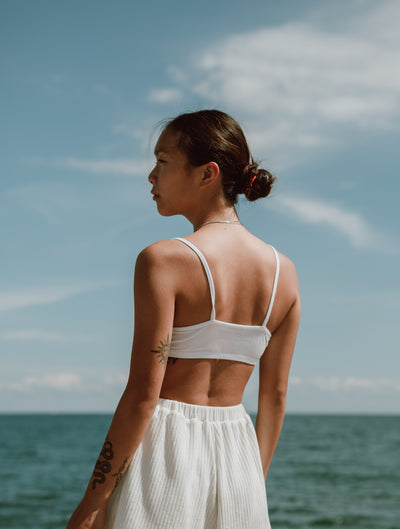 We may be halfway through the season, but if you're anything like us, this may be the first time it's really dawning on you that summer is upon us. We've all been working so hard, enjoying things picking up after a dismal Q1, that some of us (ahem) haven't yet started to enjoy the summer spoils. Water, sand, margaritas, fresh air, and, most importantly, doing anything other than working. As we lay down our towels, unfold our chairs and take that first icy cold Sanzo from the cooler, this is what we're looking forward to.
* * *
Molly's Beach Bag
Demon Copperhead by Barbara Kingsolver. I'm currently in the middle of this moving story about a young boy born to a single mother in Appalachia. The characters are so well written and I love the way Kingsolver captures the child's voice.
Trick Mirror
by Jia Tolentino. I have yet to dive into this collection of essays by Jia Tolentino, a staff writer at The New Yorker, but it comes highly recommended by several friends and I can't wait to start.
Jessie's Beach Bag
On Our Best Behavior: The Seven Deadly Sins and the Price Women Pay to Be Good by Elise Loehnen. You may know Elise from her time hosting the Goop podcast, but she feels like a different person altogether (in a good way) when she talks about her new book. The title alone really connected with me. Let's be less good and more ourselves.
A Brief History of the Female Body: An Evolutionary Look at How and Why the Female Form Came to Be by Deena Emera, PhD. There is still so little we know about the female body and I can't wait to dive into all science detail provided by Dr. Emera. And a quick shoutout to Deena's amazing agent, Jackie Ashton, for championing such an important (and seriously f'ing interesting) book. Available for pre-order; scheduled for release August 15.
Brit's Beach Bag
The Boys from Biloxi by John Grisham. I love John Grisham novels.
It Ends With Us / It Starts With Us by Colleen Hoover. Excited to read these, I am actively trying to avoid hearing any spoilers!
* * *
Other Things We Cannot Live Without This Summer
Molly: My Vitamix. Now that the summer heat is in full swing on the East Coast, I've gotten hooked on a very cold smoothie to start the day.
Jessie: My Barton Parreira sunglasses. When we decided to move to LA I decided to treat myself to a pair of these amazing sunglasses and end up becoming a full brand convert. Pair these with a perfect beach hat from Janessa Leone and I almost feel too cool.
Brit: True Tone Swimwear! No crazy tan lines and they dry super fast! Add in a great book, a sunny beach, a glass (or two!) of sangria, and I'm set for summer lazy days!